Lucinda Williams at Hartwood Park - Pittsburgh Sunday July 14, 2002

Contact Me
Note: All photos © 2002 by Keith Bergendorff
My friend Matt, a long-time Lucinda fan and resident of the Pittsburgh area who I met on Lucinda's message board, was generous enough to put me up for the weekend after I drove out from Long Island on Saturday. We packed up a cooler and set out from his home near Monaca early Sunday afternoon to get to Hartwood Park early and set up seats as close as possible to the stage. We arrived about 2PM, before the park gates were even open. We found a parking lot nearby and walked the quarter-mile or so down to the stage with our gear, where Chuck Prophet's crew was setting up on stage. We were among the first to arrive and set up six chairs as close as we were allowed to the stage, as we were expecting some friends to join us shortly. The field behind us was practically empty at that time. By the time the show started at 8PM, the field looked like a miniature version of Woodstock, so we congratulated ourselves on braving the afternoon heat and getting there early.
Our friends soon arrived: Phil, a long-time Lucinda fan from Steubenville OH, Rhonda (another passionate Lucinda fan I met on Lu's board) and her family friend Andi from Lewistown PA, and finally Roger from Tennessee. Roger deserves special mention - he's a teacher professionally, and is spending his entire summer sabbatical attending Lu's concerts across the continent, usually taking buses between cities. This concert was Roger's 16th Lucinda show in the past year! Matt had met him at Lucinda's concert in Cleveland Thursday night and we saved him a well-deserved seat up front, since he had to travel down from Lu's show in Ottawa the night before by bus and rental car. We're really hoping Roger decides to write an article about his adventures this summer.
Matt and Phil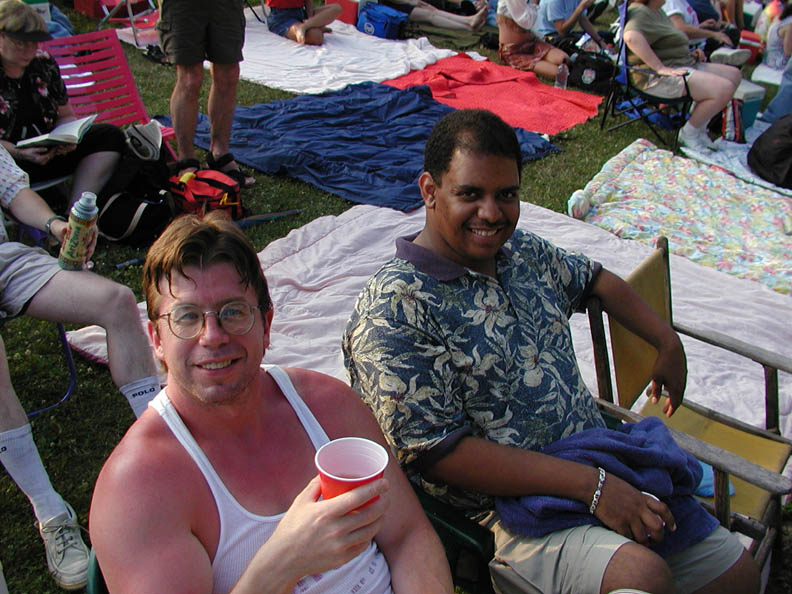 Chuck Prophet and the Boys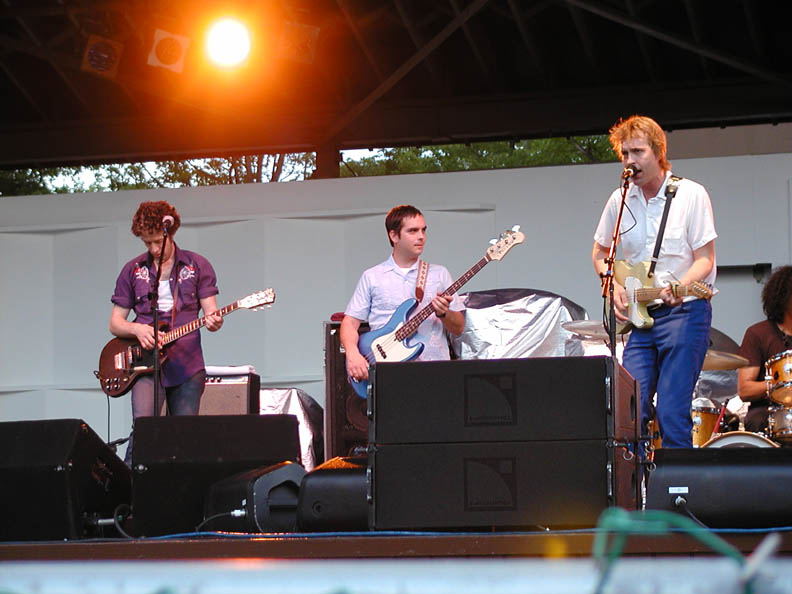 Chuck and his better half

We sat through the sound checks (Lu was reportedly sleeping in her nearby bus, and guitar tech Flappy checked out her mike and guitars with band members Doug Pettibone, Taras and Jim Christie), and we compared notes from past concerts and had a few discreetly-poured beers while waiting for Chuck Prophet and his band to begin their set. The show started on schedule, and Prophet & his band (which includes his lovely wife on guitar, keyboards and vocals) did a very rocking and enjoyable set which put the crowd in a very positive mood. The sound system at the park was absolutely first rate, and we were already thoroughly enjoying ourselves. Lucinda and the boys came out at about 9:20.
Lucinda and the Band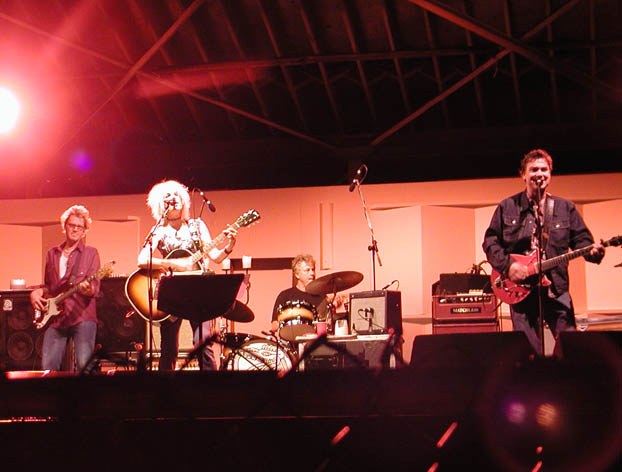 Lucinda was hatless, had her hair teased out and was sporting a very prominent new tatoo on her left arm. They opened up with Drunken Angel. I had been disappointed when I learned Bernie Larsen and Phil Parlapiano left the band before this leg of the tour, but any reservations about the new "lean and mean" lineup evaporated very quickly. Lu played acoustic or electric rhythm guitar on most songs, and Mr. Pettibone was definitely having one hell of an evening! His guitar work was superlative throughout, and you really couldn't ask for a better rhythm section than Taras and Christie (all that said, I'd be satisfied if Lu showed up by herself and did the whole set a capella). Some of the "old standards" featured new arrangements: A section toward the end of Joy featured a suddenly sped-up tempo with Pettibone absolutely wailing on guitar and Lu and Taras just rocking away rhythmically at stage left, and the new arrangement of Get Right With God was much faster than the Essence studio or tour versions but lost absolutely none of its power - Christie really went to town on that one.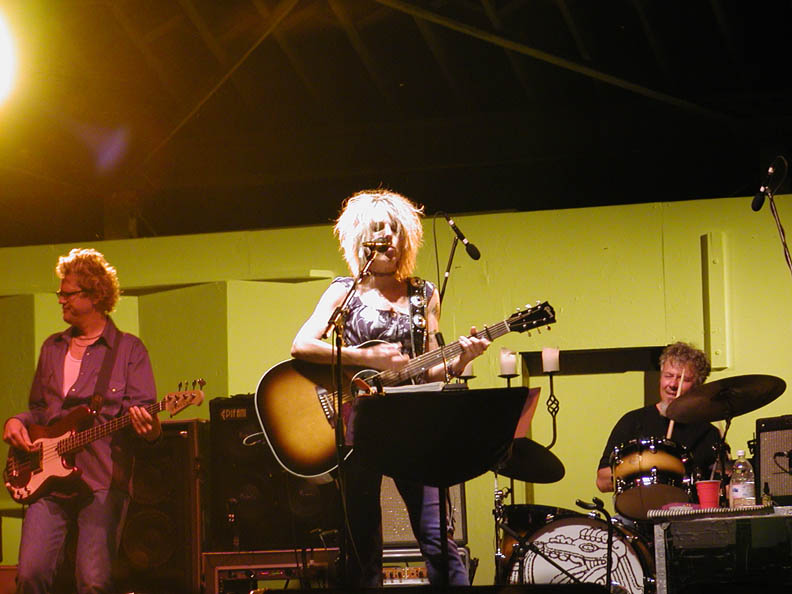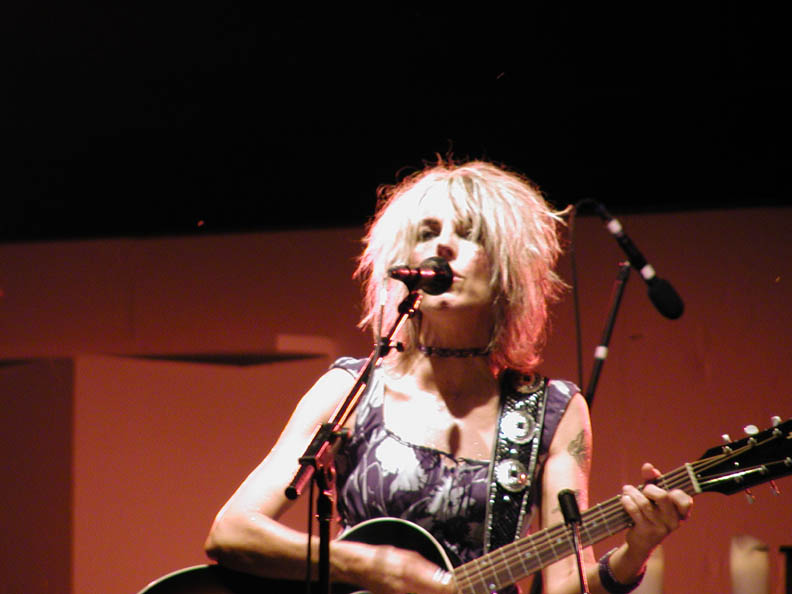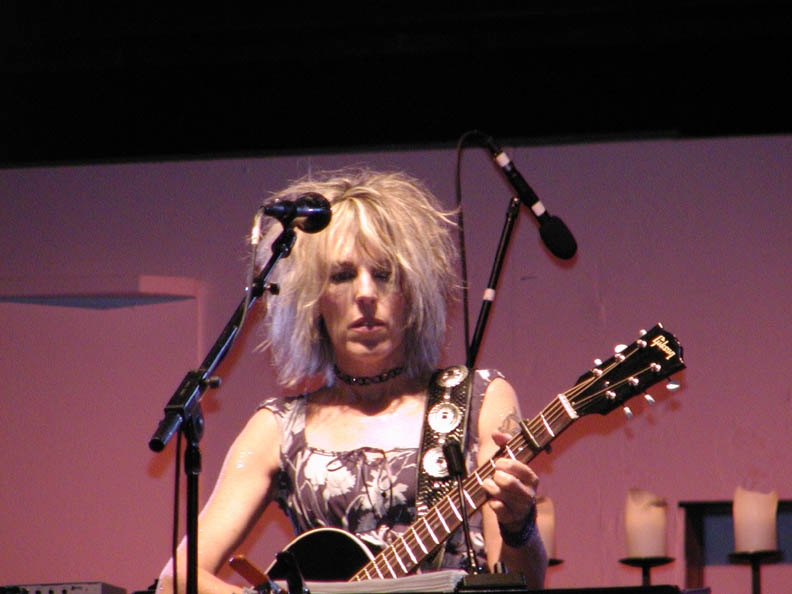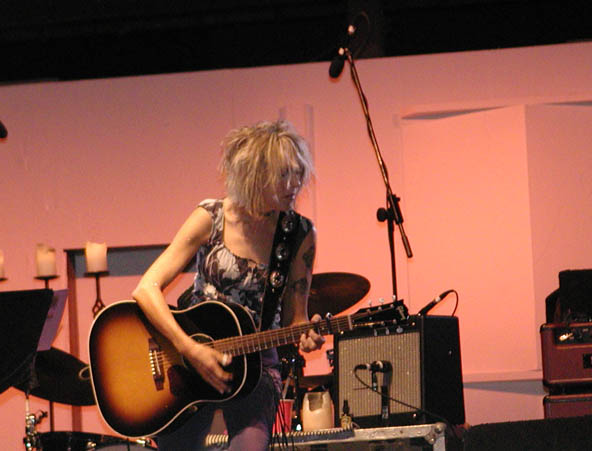 The crowd was very supportive, although there was a very vocal group to our right who kept shouting for Joy the entire set (at least it wasn't Car Wheels!), and Lu had to assure them she would get to it. Our own group was much more interested in hearing the new stuff, and at one point after the "Joy Luck Club" was screaming once again we yelled up "Lucinda, play whatever you want!" Lu as usual started out a little bit stiff, but very quickly warmed up and sang (or chanted, on a couple of the new songs) amazingly most of the night. The highlight of the evening for me personally was an incredibly moving performance of Lake Charles during the encore, which literally brought tears to my eyes - Pettibone did a wonderful turn on pedal steel for that one. On first hearing, my personal favorite among the new songs was Ventura, which was also extraordinarily moving, although I thought the others were also very good. Three of them featured rhythmic spoken vocals, and although I love to listen to Lu talk, I'd rather hear her sing. American Dream is a nightmarish story of a Navajo who serves in Vietnam but can't make a life for himself after returning, finally saying "I believe in the American dream but things are never quite like they seem, EVERYTHING is wrong!" I felt Righteously, which came across as very soulful and gutsy, probably worked the best of these three new songs, although I liked them all. A more "traditional" new song, Real Live Bleeding Fingers and Broken Guitar Strings, was a blistering rocker played during the encore.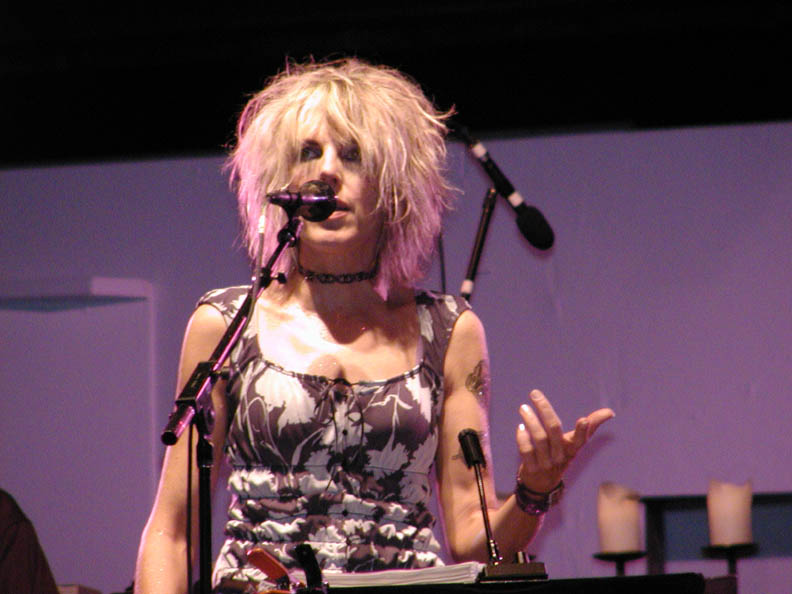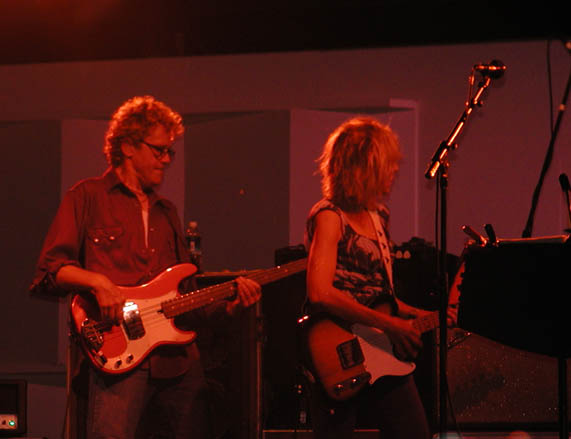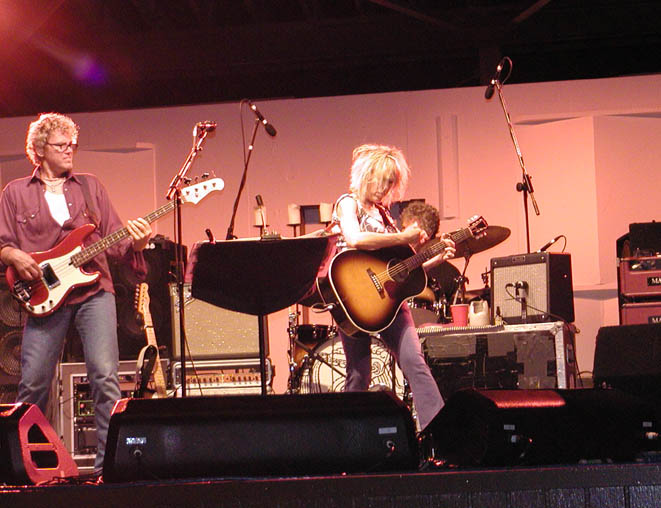 Lu seemed very pleased with the audience and her performance, and she had a big smile on her face when she left. I'm pretty sure she would have done a second encore except the park has an 11:00 curfew. We hung around by the stage for a while hoping to catch Lu on her way to the bus, and Pettibone came out to say hello and chat with the local femmes for a bit, but before long Allegheny County's Finest asked us to please pack up and leave the park. Oh well, maybe next time! At any rate, it was a first-rate show start to finish, and many thanks to the Allegheny Parks Department for putting on this wonderful free concert.
The set list (as best I can remember):
Drunken Angel
Metal Firecracker
Out of Touch
Ventura (new)
Righteously (new)
2 Kool 2 Be 4-Gotten
I Lost It
Reason to Cry
Pineola
Sweet Side (new)
Changed the Locks
Essence
American Dream (new)
Joy
(encore)
Crescent City
Real Live Bleeding Fingers & Broken Guitar Strings (new)
Lake Charles
Get Right With God