Note: All photos © 2002 by Keith Bergendorff
I brought my son Christopher to this concert along with two of his college-bound buddies, Drew Slack and Billy Warner. It was in fact this group of kids who first introduced me to the Flecktones' music a few years ago. Since that time, I've acquired most of the Flecktones' albums, Béla's two acoustic bluegrass-flavored CDs, and his incredible Grammy-winning collection of classical compositions released last year. This concert, sponsored by LI Friends of the Arts, was at the Planting Fields Arboretum in Oyster Bay NY, a beautiful outdoor venue on the north shore of Long Island where Chris and I had seen Lucinda Williams perform the month before. While on line for food before the show, we spotted band members Jeff Coffin, Future Man and Béla himself (in black t-shirt and gym shorts) strolling the grounds.
Major Flecktone fans Chris, Drew and Billy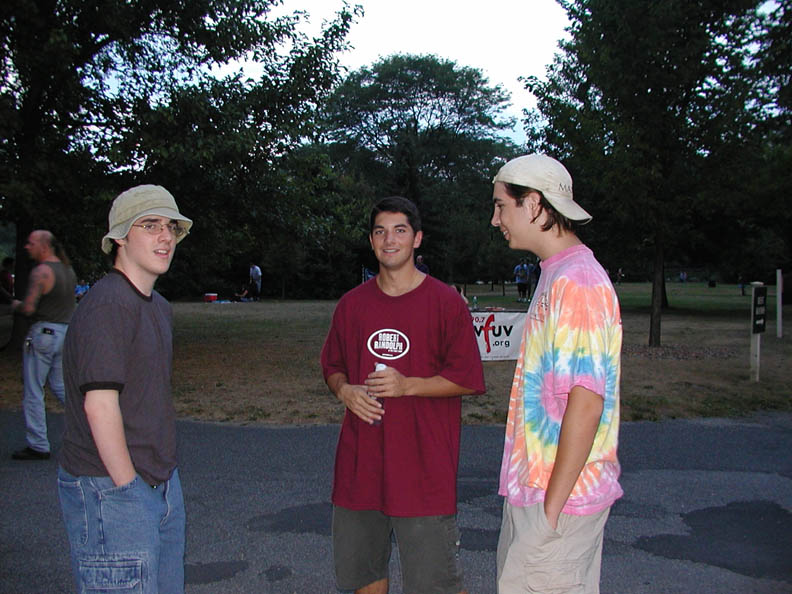 If you've never heard the Flecktones' music, it's pretty difficult to describe. For starters, there's the unusual four-man line-up: Banjo (acoustic and electric, often with synthesized output), flute and saxes (sometimes two at once), electric bass (sounds straightforward, but no one plays bass like this), and something called a synth-axe drumitar which a guy known as Future Man holds like a guitar but it sounds like a full drum kit and then some. These are four of the most amazing musicians on the planet, and they've been playing with each other off and on for well over a decade now. Most of their material could loosely be described as jazz-like, but there are also plentiful strains of bluegrass, funk and other musical genres interlaced throughout. Once you've seen them, you'll probably want to see them again -- this was my fifth show, and every one of them was astonishing. They have an excellent 2-CD live album called Live Art which is highly recommended, and their new live release Live at the Quick (also available as a concert DVD) is likewise terrific.
The band started shortly after 8:00 and played until 11:00, with a half-hour intermission and two encores. I didn't write down the set list, but there were a few numbers I didn't recognize anyway. They performed an amazing arrangement of Aaron Copland's Hoedown for the first encore which brought the whole crowd to their feet, and for the final number they did their classic Flight of the Cosmic Hippo (which I'd never seen performed before), complete with enthusiastic audience participation. At one point Béla, a native of Brooklyn, mentioned that his parents were in attendance, which brought a warm round of applause.
Some highlights: Vic Wooten had an incredible 10-minute-or-so solo on bass, doing his usual amazing tricks such as playing the strings with both hands in syncopated rhythm at blinding speed, detuning the strings on the fly and performing an extended percussion routine, and making the instrument sound something like a sick hippo. Jeff Coffin had several truly incredible solos on flute and tenor sax, and did his usual show-stopping routine of playing alto and tenor saxes simultaneously in perfect harmony. Future Man had a great extended percussion jam on a broad range of surfaces (including his seat) that concluded on some piano-like instrument I hadn't seen before. Béla and Vic did a stretch together where they were actually playing each other's instruments as well as their own! Béla had an extended solo spot that began with an arrangement of Bach and finally segued via various spectacular twists & turns into a breakneck rendition of Foggy Mountain Breakdown, with the usual humorous musical references interjected. At one point he couldn't stretch his fingers along the neck far enough for the notes he wanted, and began using his nose to help out toward the top of the fretboard! There was also a number where Béla exchanged sythesized voice sounds played on his electric banjo with Future Man's human enunciations, with fascinating and hilarious results. Best of all, the jamming amongst all four musicians was just stellar the entire evening.